Last updated on May 5, 2022
Established in May 2021, the Regional Networks Operational Forum (RNOF) is a provincial community of practice that aims to support local planning, coordination among healthcare providers and facilities and implementation of provincial standards and guidelines in Ontario. Six regional networks extend across the province (see map), and work to support initiatives that reflect local, regional and provincial priorities. The regional networks actively collaborate with the Provincial Council for Maternal and Child Health (PCMCH) and Better Outcomes Registry Network (BORN) Ontario in disseminating and implementing evidence-based guidance and initiatives that will enhance the quality of reproductive, newborn and child healthcare across Ontario.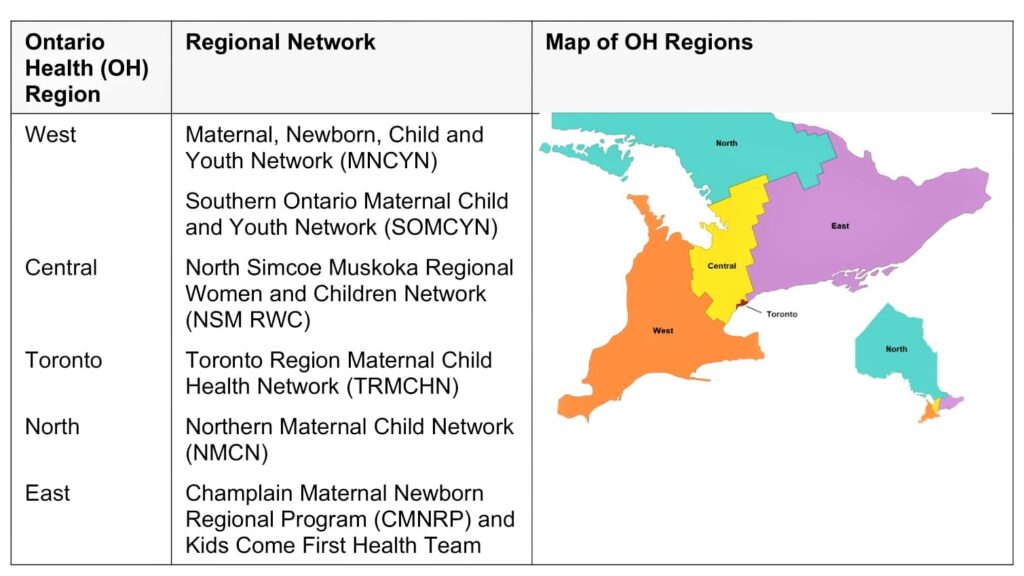 The aim of RNOF is to achieve evidence-based, high-quality, equitable and accessible maternal, newborn and child healthcare across Ontario. RNOF plans to do this by:
building and sharing capacity among regional networks to disseminate knowledge, programs and approaches across the province;
sharing successful initiatives from each regional network to determine potential adaptation at the provincial level
identifying, developing, implementing and evaluating provincial standards, guidelines, and recommendations, ensuring patient and family engagement;
expanding provincial coverage of quality improvement strategies and underserved groups/areas; and
sharing successful operational models to encourage regional network development and sustainability.
RNOF membership includes:
Representatives from the six Regional Networks

Representatives from each of the five Ontario Health regions

Representatives from BORN Ontario

Representatives from PCMCH