This webinar series is geared towards members of the PCMCH Paediatric Diabetes Network (PDN) and the Ontario Paediatric Bariatric Network (OPBN), primary care providers, paediatric endocrinology care providers, clinical educators, paediatric diabetes providers, nurse practitioners, psychologists, dietitians, social workers, exercise therapists and others interested in learning more about current practices and novel approaches in the care of children and youth with diabetes and obesity management.
Upcoming Webinar
Evaluation of a Province-Wide Type 1 Diabetes Care Plan for Children in the School Setting
Date & Time: December 7, 2022 | 12:00 – 1:00 pm (EST)
About the Speaker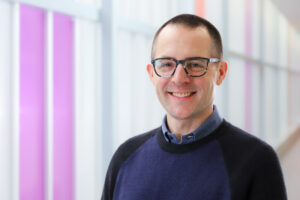 Dr. Brenden Hursh, MD, MHSc, FRCPC is a pediatric endocrinologist at BC Children's Hospital in Vancouver, and works in the multidisciplinary pediatric diabetes clinic. He also provides care for families across BC by telehealth. Dr. Hursh has a specific interest in the development and assessment of diabetes care for children in the school setting. He is a consultant for BC's provincial diabetes at school program (2014-present), where they currently provide daily diabetes care at school to nearly 400 children from across BC each year. In other related work, he has been the medical director of BC's provincial diabetes summer camp for the past nine years, and his academic interests include the evaluation of telehealth care for children with diabetes.
Webinar Objectives
Historical framework: To learn about the development of diabetes care in school in BC.
How is care provided in school: To understand what diabetes care looks like in the school setting in BC.
Evaluation of care in school: To learn from family and child evaluations of diabetes care in the school setting.
Translation: To gain some key learnings from BC that could be helpful for other provinces.
Bigger picture thinking: To think about what all of this tells us about diabetes care more generally.
Registration: https://zoom.us/webinar/register/WN_VFHr5nh6Q4u_WujCuQj2xw
Upcoming: January - March, 2023
Traditional knowledge-based lifestyle interventions in the prevention of obesity and type 2 diabetes in Indigenous children in Canada
Date & Time: Jan. 25, 2023 | 12:00-1:00pm
Speaker: Dr. Constantine Samaan
Registration: https://zoom.us/webinar/register/WN_Oozk45vRQlGQen66suX2FQ
Physician-related predictors of referral for multidisciplinary paediatric obesity management: a population-based study
Date & Time: Feb. 15, 2023 | 12:00-1:00pm
Speakers: Nicole Gehring & Dr. Geoff Ball
Registration: https://zoom.us/webinar/register/WN_pCjQDUgUS-aEZ8bS9GnHfA
The Role of Wearable Devices in Supporting Family-based Pediatric Obesity Interventions at a Federally Qualified Health Center
Date & Time: March, 2023 | TBD
Speaker: Juan Espinoza
Registration: TBD
Questions or comments can be sent to info@pcmch.on.ca