Issue 1 | October 2022
COVID-19 Vaccination: Current Recommendations
An increase in COVID-19 infections is likely as the weather turns cooler and socializing goes indoors during the coming months. The following is a review of the current recommendations for vaccination in pregnant people, children and youth, and around bivalent vaccines.
Pregnant Population
In Ontario, the pregnant population continues to be prioritized for COVID-19 vaccination and booster doses given their higher risk of complications from a COVID infection than non-pregnant people. The September 9, 2022 statement from the National Advisory Committee on Immunization (NACI) strongly recommends that individuals who are pregnant should be offered a fall COVID-19 booster dose at any stage of pregnancy, regardless of the number of booster doses previously received. There is accumulating evidence supporting the safety and effectiveness of mRNA COVID-19 vaccines during pregnancy and breastfeeding. In Ontario, COVID-19 vaccine coverage in the pregnant population remains lower than in the general female population of reproductive age. Read more on this in the fifth COVID-19 Immunity Task Force (CITF)-funded report on COVID-19 vaccination coverage in pregnant people, with data from the BORN Ontario study led by Dr. Deshayne Fell.
Bivalent Omicron-containing mRNA COVID-19 Vaccines
On September 1, 2022, Health Canada authorized the use of Moderna Spikevax BA. 1 Bivalent (50 mcg) as a booster dose for adults ≥18 years of age. Subsequently, on October 7, 2022, Health Canada authorized the use of Pfizer-BioNTech Comirnaty BA.4/5 Bivalent (30 mcg) for use in Canada. As per the Ministry of Health's October 13, 2022 updated COVID Vaccine Guidance, Bivalent Pfizer-BioNTech is the only bivalent mRNA product authorized for use as a booster in individuals aged 12 to 17 years. There is no preference between bivalent Pfizer-BioNTech and bivalent Moderna booster doses in individuals 18 years and older.
Child and Youth Population
COVID-19 vaccination for children and youth is a priority, to keep them and our communities healthy. Currently, children in Ontario between the ages of six months and 5 years are eligible for a primary series, but booster doses have not been approved for this age group. Children with disabilities and medical complexity may be at an increased risk for severe illness or complications from COVID-19, and thus, it is especially important for them to stay up to date with vaccination.  As per the Ministry of Health, eligible immunocompromised individuals aged five and older should be offered a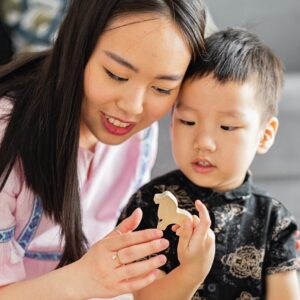 booster dose after a primary series. More information about COVID vaccination for children and youth is available from Health Canada.
PCMCH is working with members of the Ministry of Health's Vaccine Implementation Branch and Office of the Chief Medical Officer of Health to coordinate communications and the development of tools to support healthcare providers in administering vaccinations and build public awareness about the importance of COVID-19 and other vaccinations, such as the flu shot.
PCMCH will continue to share updates about COVID-19 and COVID-19 vaccination pertaining to pregnant people, children and youth through our social media channels and on our website.
 Also in the October 2022 Issue
Dr. Jackie Schleifer Taylor Departs as PCMCH Chair
Easing the Transition to the Adult Care System
Clinical Handbook for Paediatric Asthma
Return to Milestones